What it's like to be a digital nomad in Koh Phangan
KP it's an island very famous for two things mainly: full or half moon parties, where people drink themselves to death and forget about any concept of socially acceptable behaviour and for yoga centres and yogi people in general.
Reason why we chose Koh Phangan was because of its yoga culture, especially from my wife's side, but I was very eager to live and work in a tropical island for the first time in my life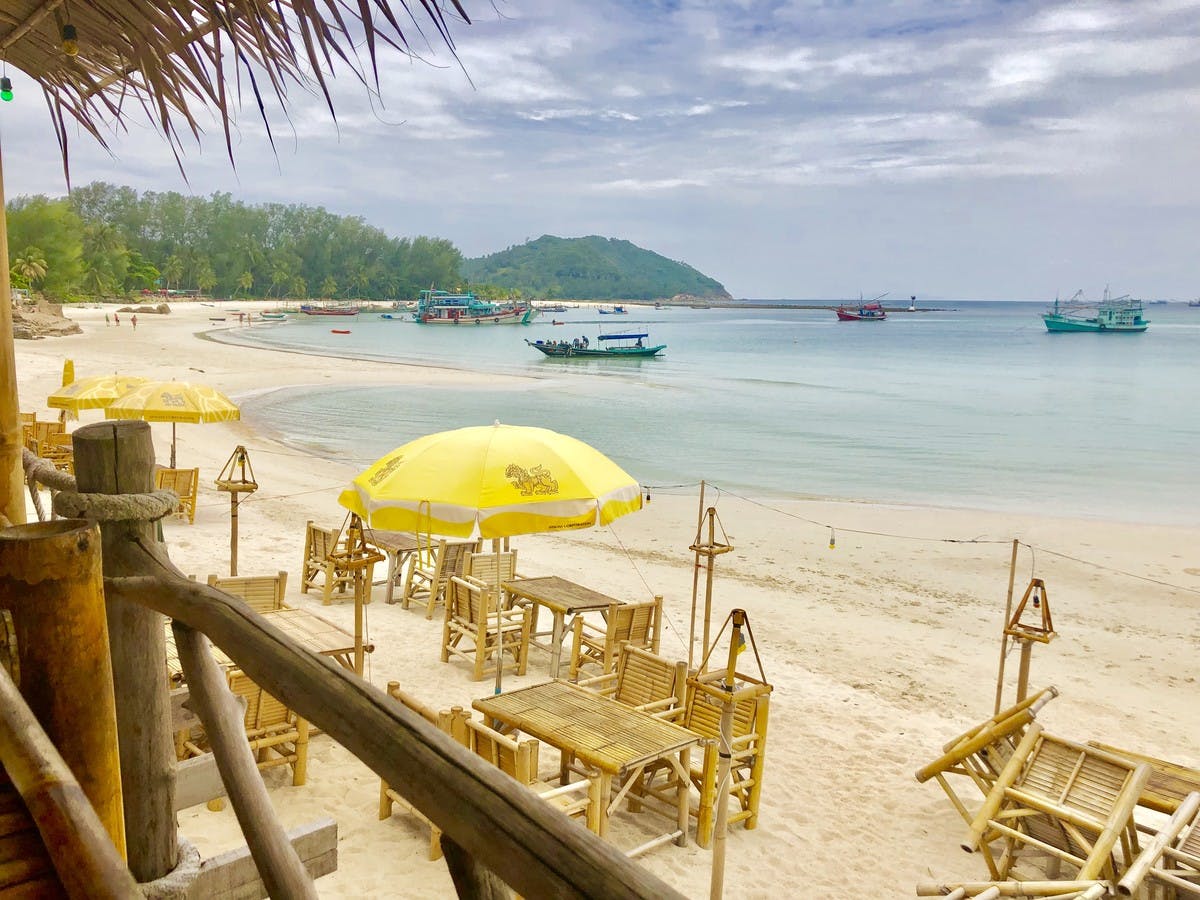 Beach-front restaurant in Chaloklum, on the north coast of the island
What's around?
The island is relatively small and you can easily drive anywhere in less than 45 minutes, from top to bottom, east to west.
It's very important, if not compulsory, that you get yourself a scooter, without it it's pretty impossible to go anywhere unless you don't mind waiting for super expensive taxis to drag you around for 150 THB a pop minimum.
Scooter prices range from THB 300 per day to THB 3,000 per month, usually it's good to avoid renting (or buying anything for that matter) in very central or touristy places and try to get from smaller shops, with less advertising banners, the quality at the end is the same.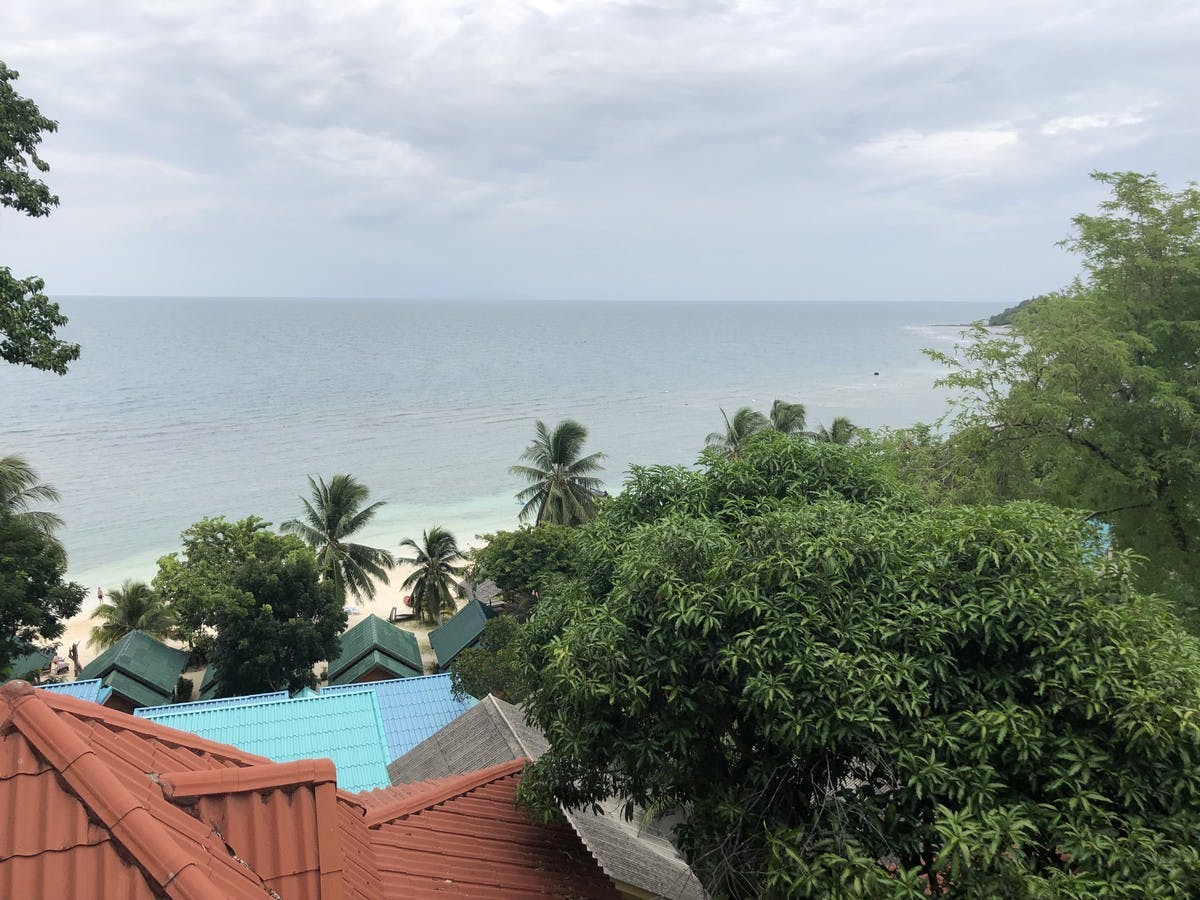 Beautiful view of Haad Yao from What's Cup Cafe
Which area to choose?
This will be always be a personal choice as every area has its own personality in a way:
Haad Rin
this is the place where all the moon parties happen, so if you wanna party and don't mind noise it's a good place to go. Personally, I have only visited this area very shortly and found it slightly dirtier than the rest of the island, might be something to look out for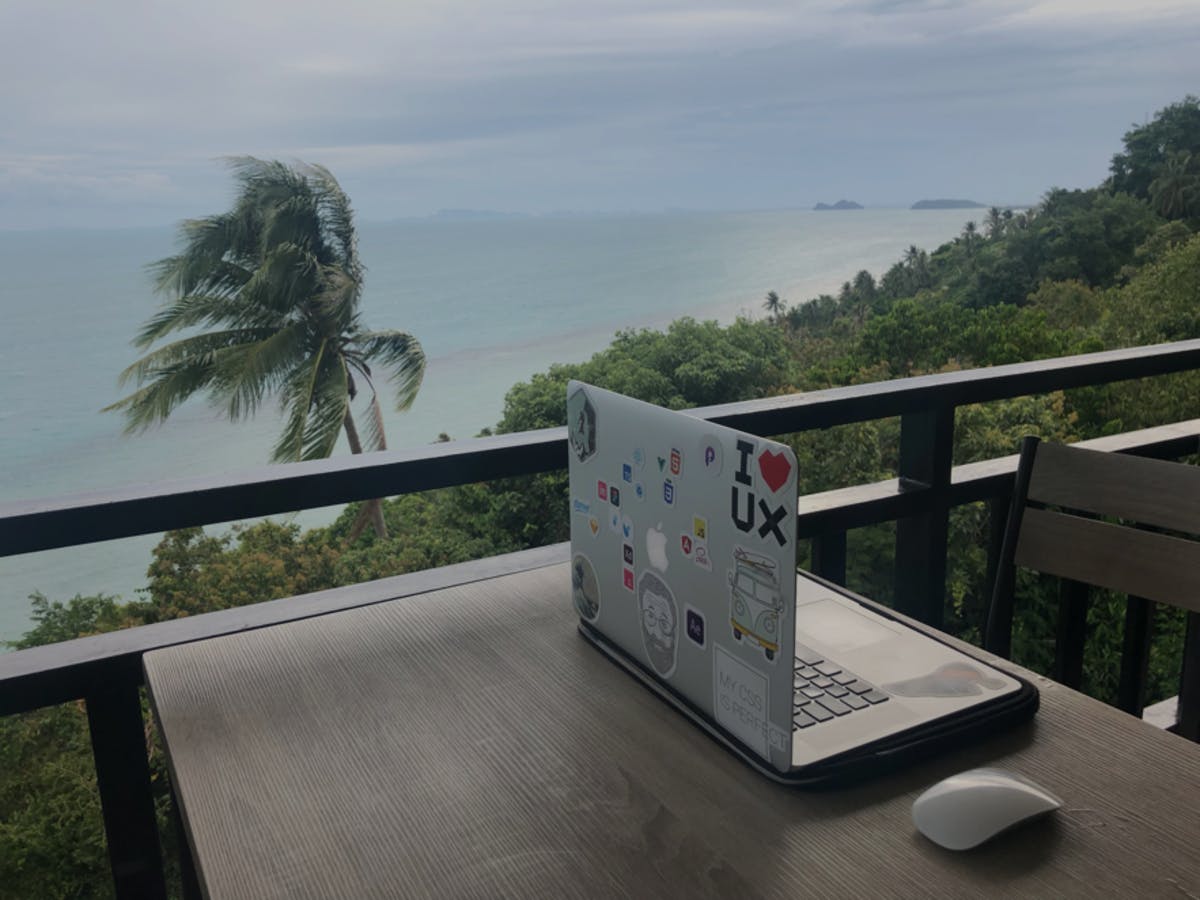 A beautiful hill-top restaurant near Haad Rin, best place for a pic, but impossible to work because of wind and no wi-fi
Ban Tai
Is an area on the south coast, between Haad Rin and Thong Sala, and it looks like it's the area where party goers usually stay, but it also has its own charm in a way. There are lots of western bars, supermarkets, gyms. In Ban Tai you can find two of the three coworking places on the island, Koh Space & La Casa Tropicana.
I haven't been to Koh Space personally as it was quite far from where we lived at the time.
La casa tropicana is a newly opened co-working space and it has a stunning interior, beautiful bar and it's all beach front. You can rent kayaks and jet skis easily but not cheaply and the monthly price for co-working is very reasonable at THB 3,000 per month and that includes one free coffee (proper coffee, no filter ones)
It's definitely a place I will try and spend more time in the future.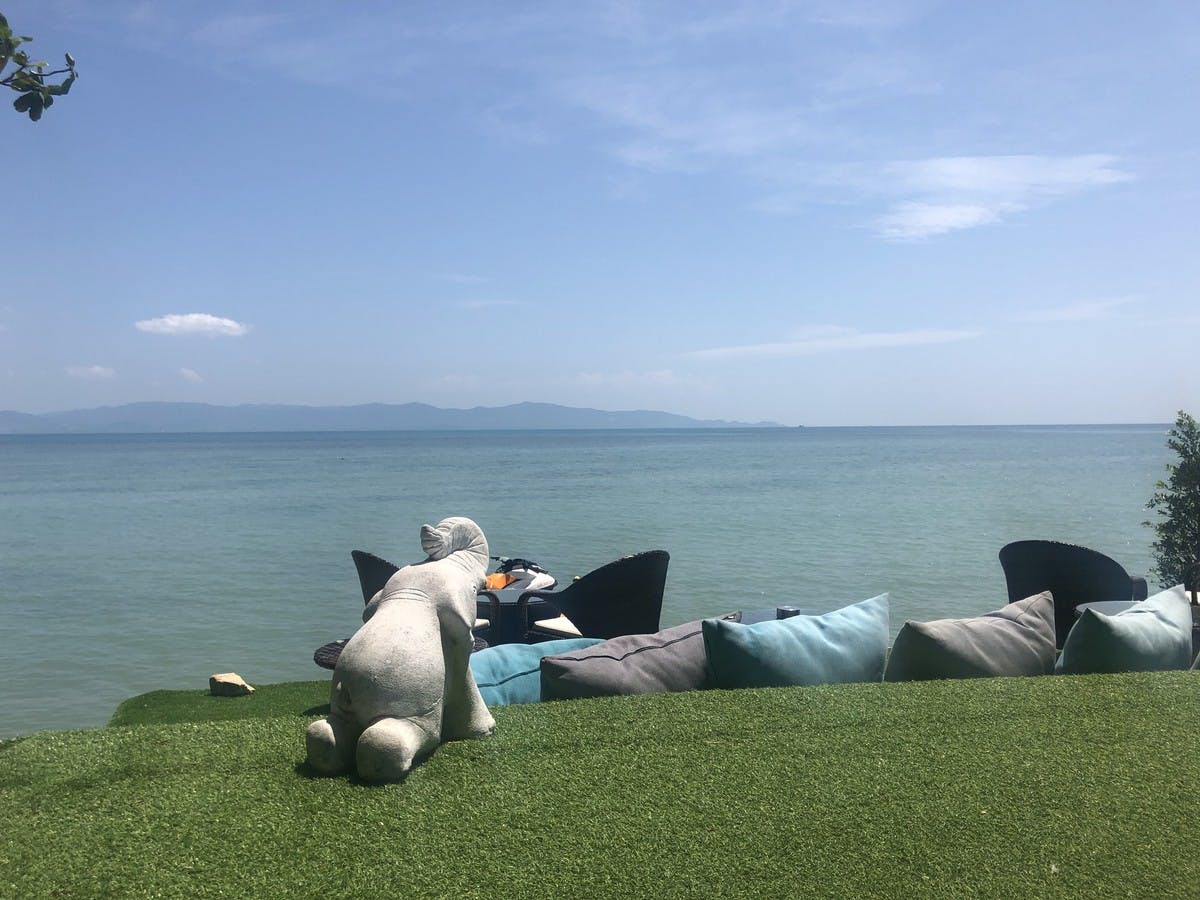 View of the beach in Ban Tai
Thong Sala
this is the capital of the island in every place and form, everything you need is here, a night market, food court, electronic shop, post office, etc. etc. You'll find yourself here almost every day, food in the food court and night market is cheap and good, and it's just an easy point to catch up with friends as everyone knows how to get there.
Wok Tum
It's a small fishing village, with many resorts around. The beach looks nice in a picture, but it's not for sunbathing or swimming.
Hin Kong
A bit more north, nice beach and nice beach-front restaurants. If you love Pizza go to Romanzo Tropicale, their pizza is amazing and tastes like in Italy.
Sri Thanu
Probably the place where everyone's gonna tell you to go, it's quite nice but very yoga oriented, so if you're not into that, probably avoid 🤣.
Apart from that Sri Thanu is amazing, has everything you need, lots of vegetarian restaurants and the best co-working space on the island: Beachub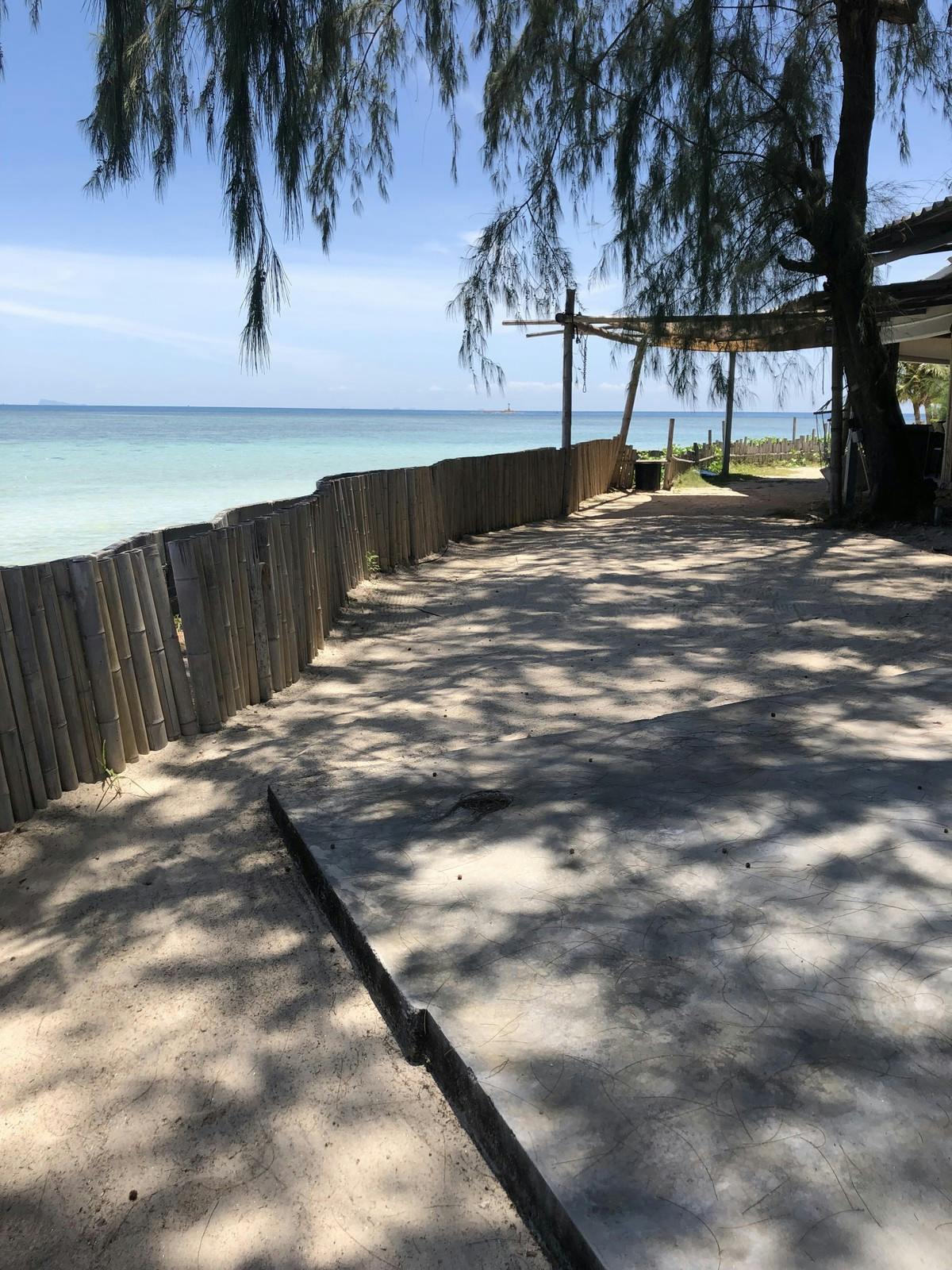 The beach in front of Beachub
Beachub is right next to Zen Beach, best place on the island to watch sunsets, the price is a bit higher with a month costing THB 6,500 but it's definitely worth it.
I liked it so much that we rented one of their beach-front bungalows for our last week on the island and haven't regretted it at all. You have everything you need, white beaches, place to work, super-fast internet, bbqs every Friday, a gym and a yoga shala too.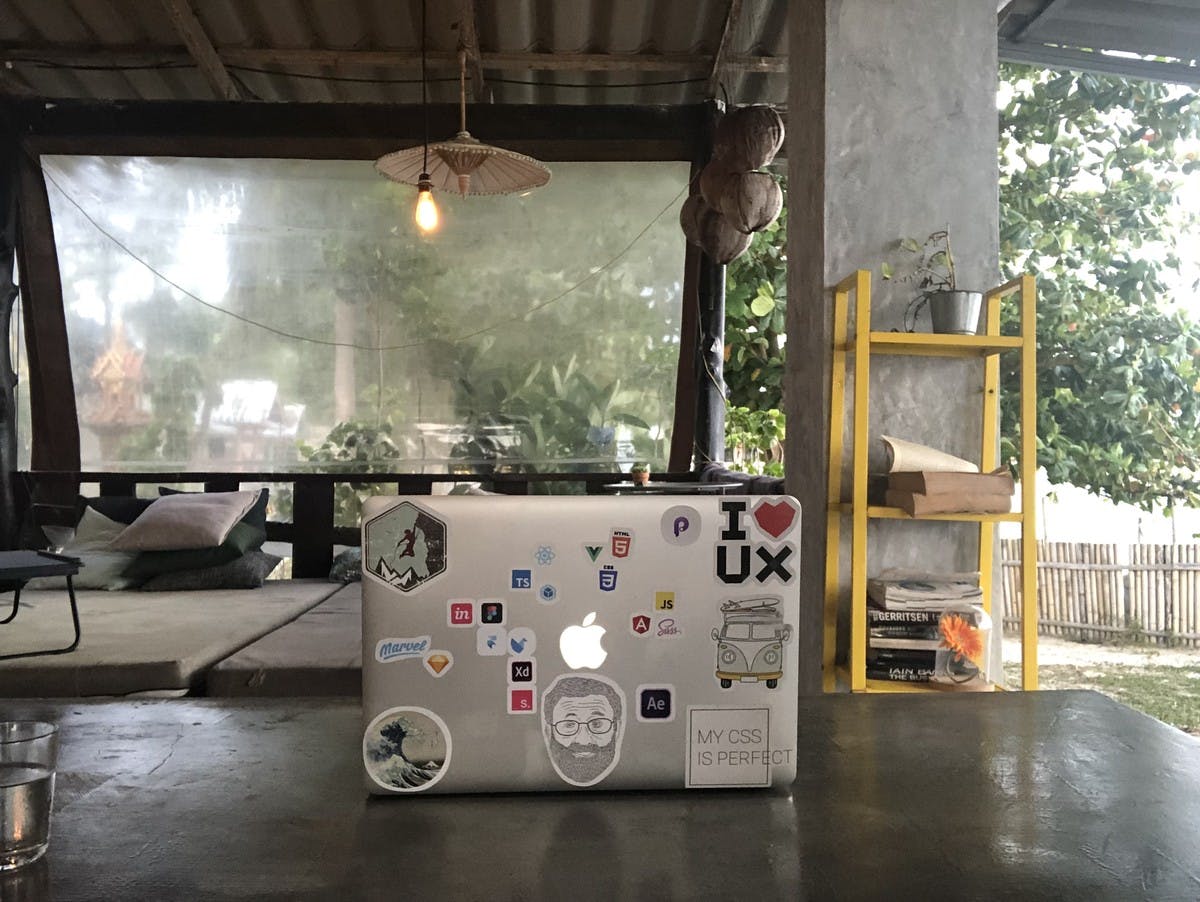 My desk at Beachub
Chaloklum
One of the most beautiful parts of the island, it's a fishing village that has the best seafood restaurants on the island and it's a great spot for diving, if you're into that!
The East
It's a very beautiful part of the island, very tropical and perfect for day trips, with plenty of waterfalls, hidden beaches and so on. That being said this side of the island is also the most commercialised one and it's far from everywhere and probably not the best place if you're planning to work and be around town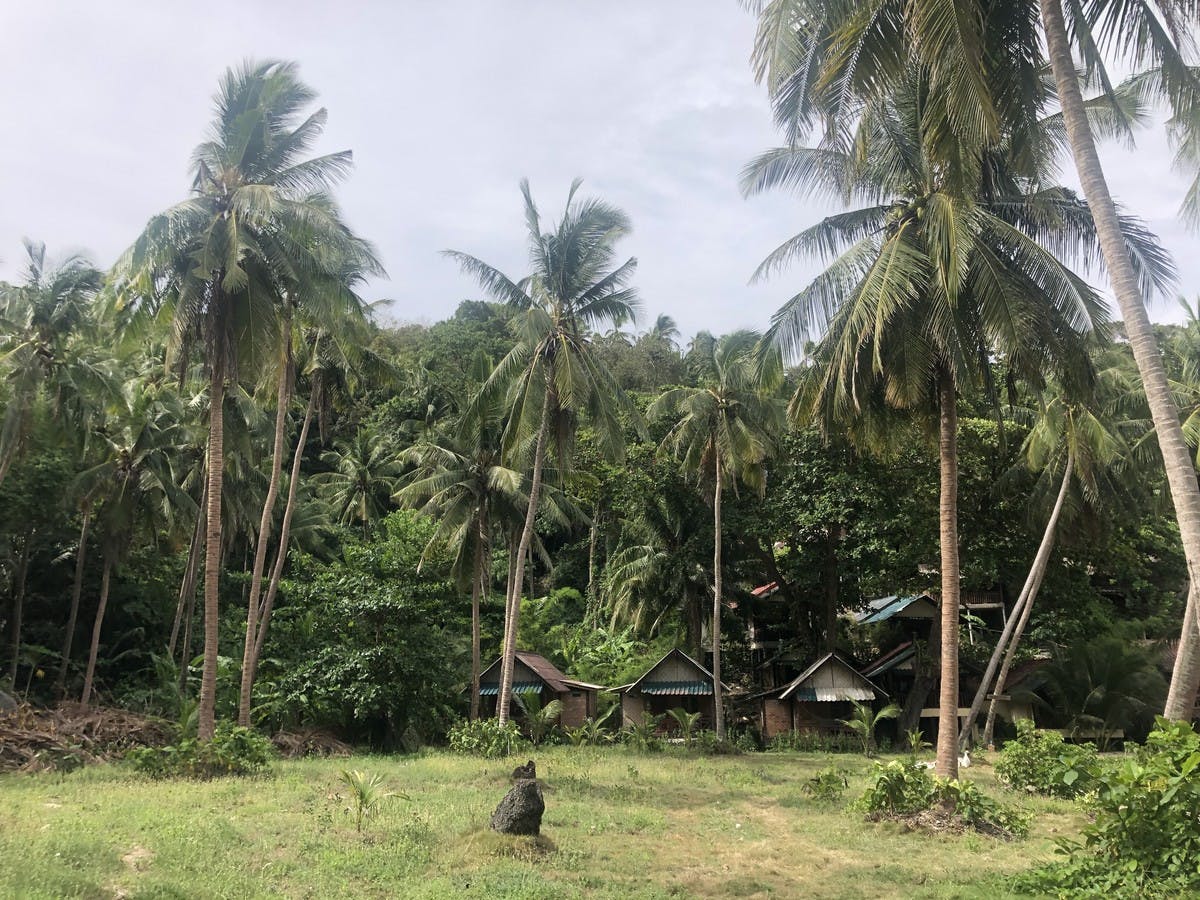 Haad Than Sadet Beach - the whole east of the island is covered in palm trees
Where to eat?
All places are good but the ones that stood out are:
- Good Time, Sri Thanu
The Thai food is amazing, but the staff's hospitality is even more amazing, if you have a bad day this is the place to go to cheer yourself up.
- Romanzo Tropicale, Hin Kong
Best pizza in Thailand, hands down, so far at least 😆
- La Luna, Phangan Food Court, Thong Sala
Good pizza too, but the best thing from this place is the Breakfast Skillet: eggs, potatoes and veggies, it's an amazing wake up meal to kickstart your day.
- Phangan Food Court, Thong Sala
Apart form Luna pizza the quality of the food here is way above average, better than Phantip and also much cheaper. Be sure to check it out
- Phantip Nightmarket, Thong Sala
- Weekly night market in Thong Sala on Saturdays and in Chaloklum on Sunday -> don't miss this out, this is the real asian experience, food is nice and peculiar (I had a very tasty steamed pizza) and atmosphere is very nice, especially in Chaloklum on Sundays (not many tourists)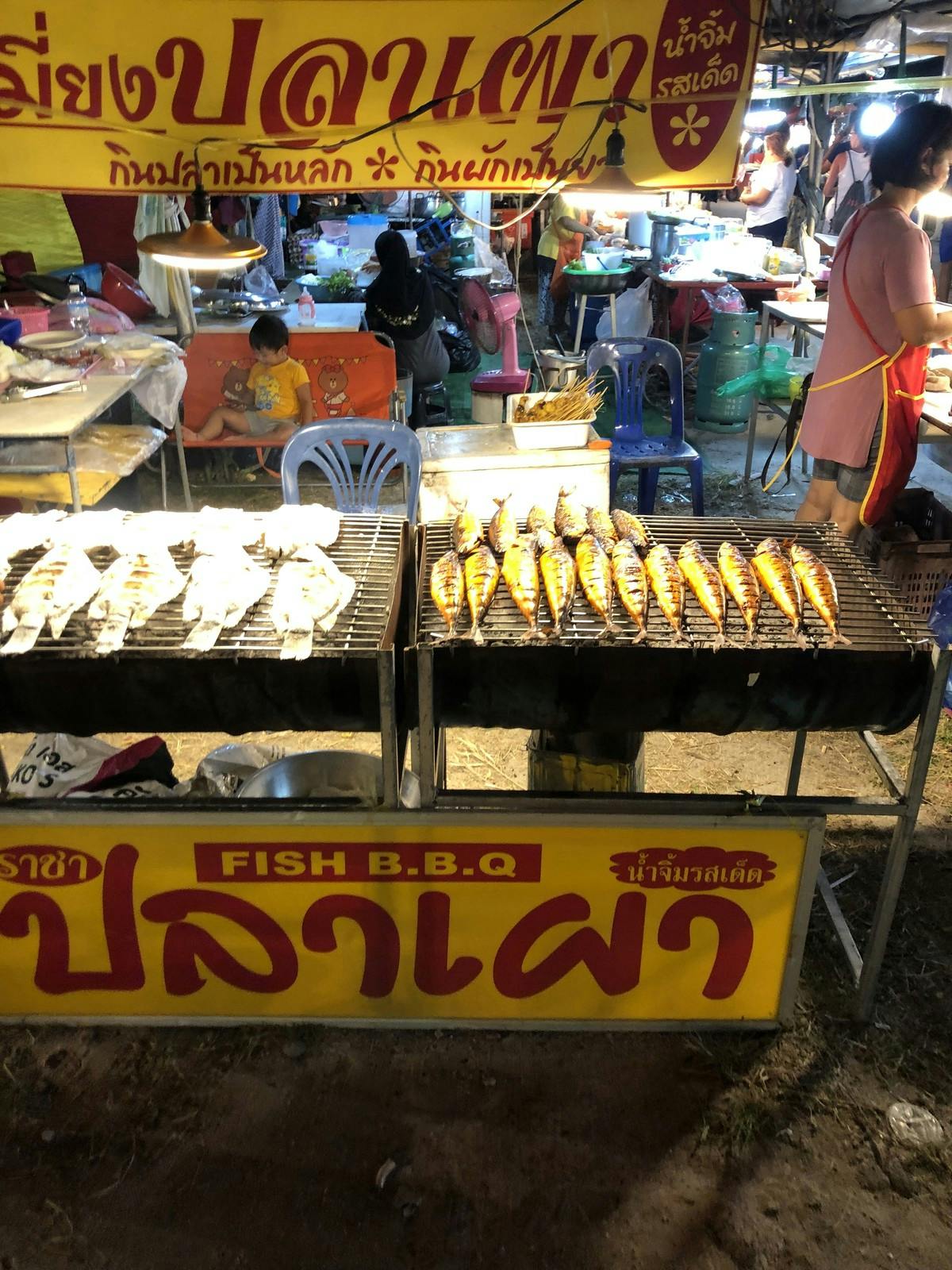 Grilled fish in the Saturday nightmarket
Best coffee places
- What's Cup, Haad Yao
Newly opened, perfect for work with fast wi-fi, plug sockets next to tables and a breathtaking view over Haad Yao! Try their coconut coffee (it's coconut water and an espresso shot) it's delicious.
- Doppio Caffè, Thong Sala
Best place to work in Thong Sala, A/C, fast wi-fi, coffee is ok but the price is fair.
- Over the Moon, Sri Thanu
Another favourite, you can find OTM on the highway (or whatever the name for that is there 😆), they have very fast wi-fi, good places to sit outside and smoke (if you do) and the coffee is a bit pricey but it's one of the best tasting on the island. They also do amazing western-style breakfasts, if you want to treat yourself once in a while.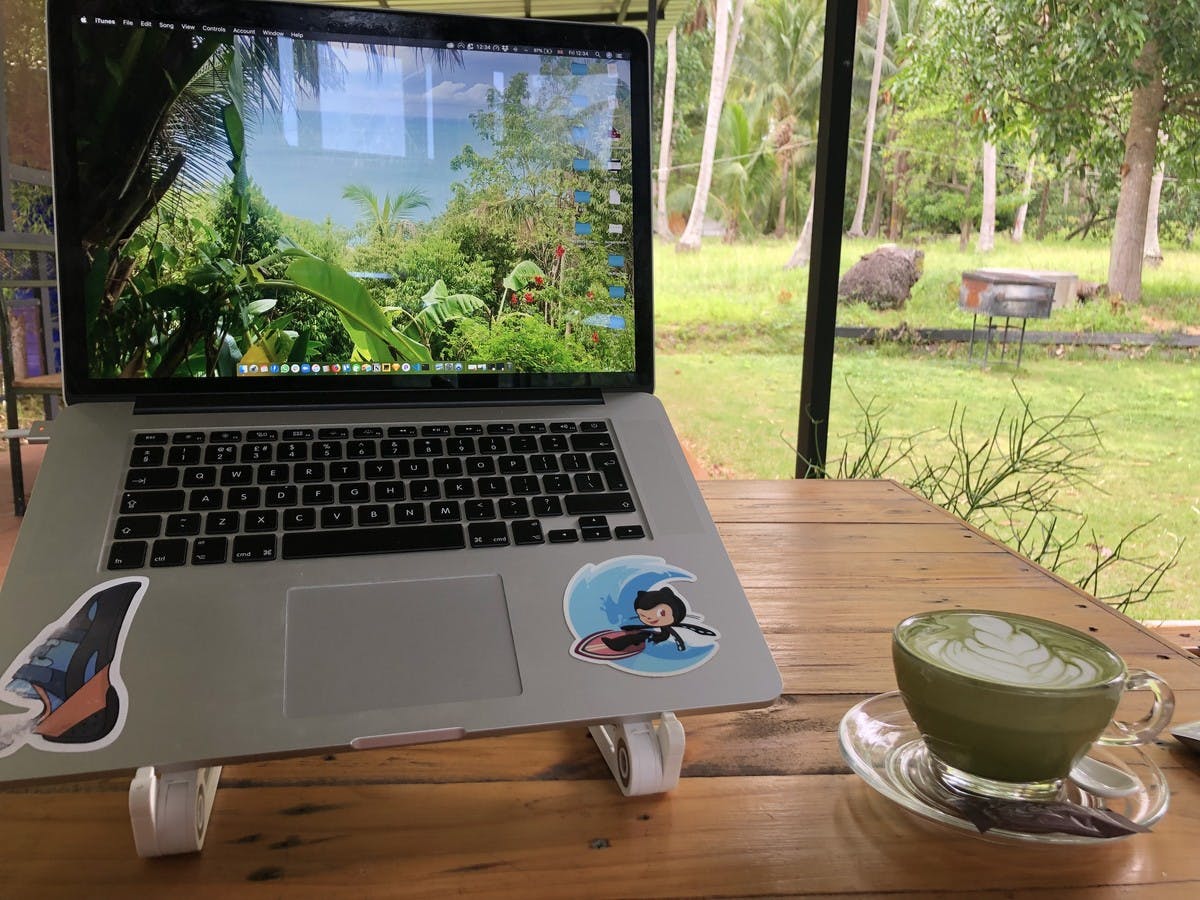 Matcha Latte at Over The Moon Cafe
Where to work?
- Koh Space, Ban Tai
Price: THB 3,900 a month
Haven't been, but it's there 😆
- La Casa Tropicana, Ban Tai
Price: THB 3,000 a month
Amazing place, beachfront bar and restaurant in there too, it's the cheapest co-working space on the island so far, their capacity isn't huge though (only about 20 desks). Best place if you live around Ban Tai, Haad Rin or Thong Sala
- Beachub, Sri Thanu
Price: THB 6,900 a month
The best place on the island, huge co-working space with A/C, communal spaces, ping pong tables, beach right in front of you, 3 beautiful dogs 😆 (especially Bruce), amazing and friendly staff that will help you with anything you need, a gym, a yoga shala and also beachfront bungalows if you fancy living very close 😂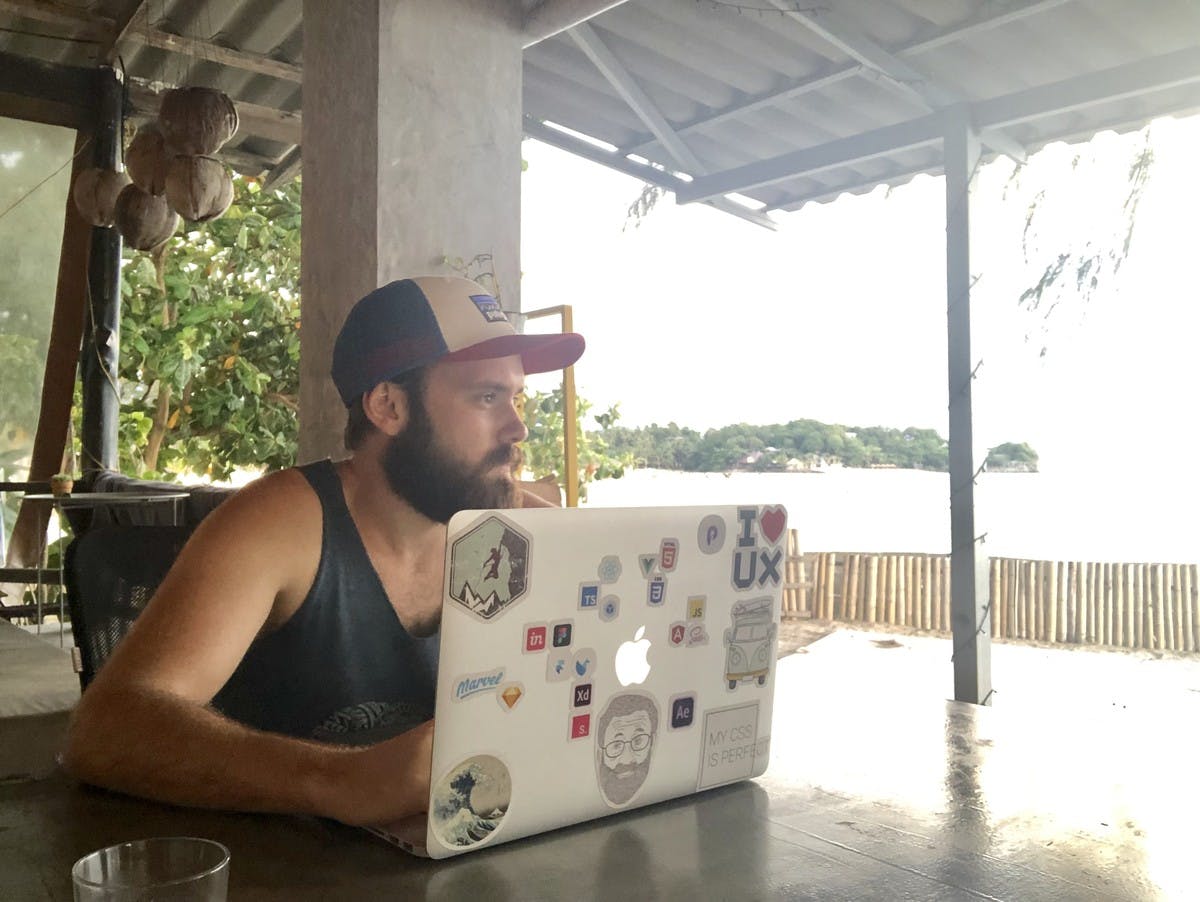 Working (not so) hard
Where to live
Just choose one of the places above 😆, one thing really worth mentioning is probably try and travel in low season and book only a hotel for a few days and then go around the island and explore, you'll find many signs for rentals and they're usually not only cheaper (a lot cheaper), but also more likely to be original and beautiful.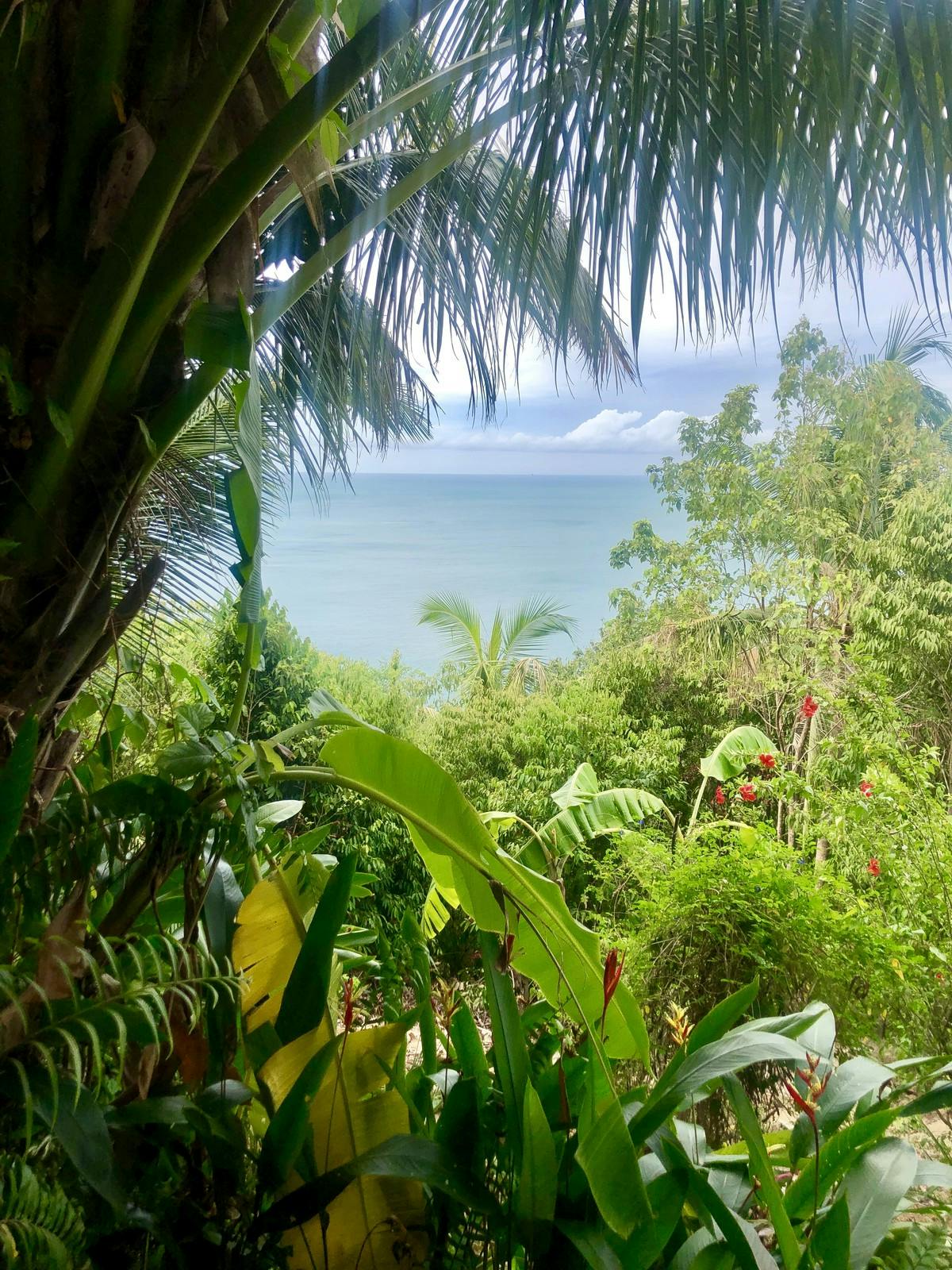 The view from the toilet at Hide on High, in the East of the Island